Will Brink - Bio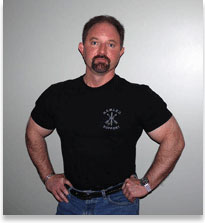 Will Brink has been an author, columnist and industry consultant for over 15 years and has been extensively published.
He is also the author of a number of books and e-books including, Priming The Anabolic Environment", Bodybuilding Revealed & Fat Loss Revealed. In addition , he has been the co-author of several studies relating to sports nutrition and health found in peer reviewed academic journals such as the International Society of Sports Nutrition and others. Will holds an ALB Degree from Harvard University and graduated with concentration in the Natural Sciences.
His articles on the subjects of fitness, supplements, bodybuild ing , fat loss , HIV, cancer, whey protein, heart disease, and longevity have been published in Muscle Media, Life Extension , MuscleMag International, Let's Live, Muscle & Fitness, Life , Townsend Letter for Doctors, IronMan, Inside Karate, Exercise for Men Only, Physical, Power, Body International, Oxygen, Penthouse, Fitness RX, and numerous others.
Some Of The Magazines Will Brink
Has Been Published In To Date: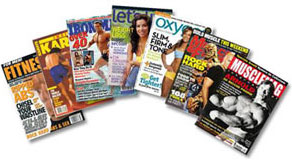 Will is a fitness pioneer who was responsible for bringing the benefits of whey protein and healthy fats to the fitness community. He was the first to write about the benefits of adding healthy fats to your diet when this principle was still laughed at in many circles. Nobody has written more about whey proteins than Will, his research on the subject has been used in countless studies worldwide. His articles on creatine literally changed the face of the creatine industry ensuring safe creatine for millions of people.
He's a popular speaker who's been a semi-regular guest on national radio shows and has completed numerous television appearances over the years. In addition, Will has been asked to speak at various industry and scientific conventions all over the world, he has been interviewed by TV stations , including Fox News and other networks and has traveled worldwide including Canada, Europe and Japan, giving lectures and advising clients and companies.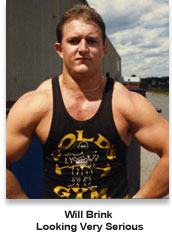 Will has also worked in R&D for major supplement, dairy and pharmaceutical companies, creating or improving particular products , improving label accuracy and advising companies on the latest trends.
Will has also been asked to give advice to tactical law enforcement (SWAT) teams via his seminars, and has advised special operations personnel on how to optimize their performance under extreme
stress.
Will is a former high level trainer with a "rep" for getting bodybuilders, figure competitors and Olympic athletes into shape, as well as pro golfers and others who rely on peak performance for the careers. . He has also served as a judge in many fitness and bodybuilding shows for the National Physique Committee (NPC).
Recent Letter from Department of Police.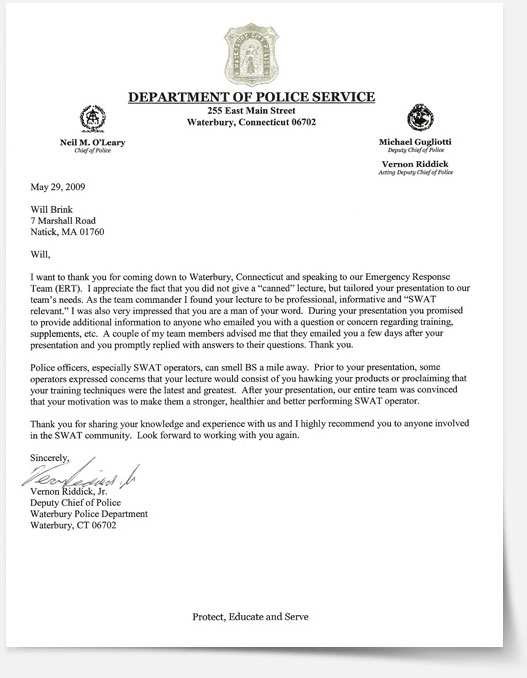 Letter Of Thanks From Law Enforcement Team: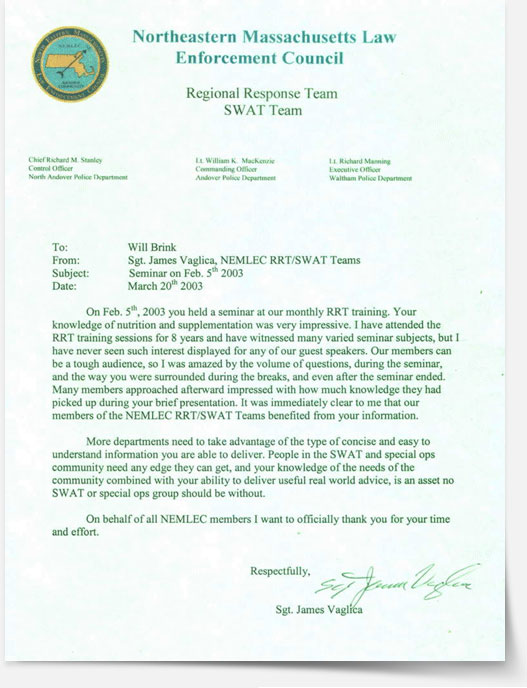 Published Research by William D. Brink
J.Antonio, C.M. Colker, G.C. Torina, Q. Shi, W. Brink, and D. Kalman. "Effects Of A Standardized Guggulsterone Phosphate Supplement on the Body Composition in Overweight Adults: A pilot study." J. of Current Therapeutic Research. Vol. 60, Number 4, p220-227, 1999.
Brink W. Task specific supplements for Special Operations Forces and law enforcement tactical teams. Journal of the International Society of Sports Nutrition. 3 (1)S1-S29, 2006. (www.theissn.org)
D.Kalman, C.M. Colker, J. Antonio, G.C. Torina, W.D. Brink, Q., Shi. "Effects Of A Guggulsterones Extract-Phosphate Salt Based Product on Body Composition And Energy Levels In Overweight Adults." Medicine n Science In Sports n Exercise. Vol.31, Number 5 (S), 1999.
Antonio J, Kalman D, Colker C, garza T, Brink W, Swain M. "Effects of Creatine-Pyruvate vs. creatine monohydrate on exercise performance." J.Strength Cond Res . 1999;13(4):a422.
C.M. Colker, D. Kalman, W.D. Brink, L.G. Maharam. "Immune Status Of Elite Athletes: Role Of Whey Protein Concentrate." Medicine n Science In Sports n Exercise. Vol. 30, Number 5 (S), 1998.
Along with Karils Ullis MD, Tim Ziegenfuss PhD, Rick Cohen MD, Bill Roberts, and yours truly, we had a Letter to the Editor published in JAMA regarding our criticism of a study done on the controversial supplement androstenedione. See:
K. Ullis, T. Ziegenfuss, B.Roberts, W.D. Brink, R. Cohen, "Letter to the Editor: Androstenedione." JAMA. February 9th, p 742. 2000
Chapters:
"Diet" ( Chapter 5 ) of Sports Supplement Encyclopedia (Edition One) edited by Jose Antonio PhD and Jeff Stout Ph.D. Published by Nutricia Institute of Sports Science 2001. Data based chapter on how athletes can structure their diet to gain lean body mass.
"The Supplement Pyramid" (Chapter 11) of the Sports Supplement Review 3rd Edition by Bill Phillips. An up to date chapter on various supplements for sports and bodybuilding nutrition used by athletes and how to prioritize them in order of importance. Published by Mile High publishing. 1997